Bonnet & Seat Gaskets
VBG Intech's BG Series Control Valves are designed to ensure a completely enclosed bonnet gasket. Both the BG-S and BG-H series bonnet's have a shoulder projection that doubles as a mechanical stop, limiting the gasket compression. Thus, the bonnet gasket remains completely sealed, and its compression is determined by the depth of the shoulder projection existing in the bonnet.
The body, the seat retainer, and the seat itself are machined within tight tolerances to ensure proper gasket compression. In contrast to the bonnet, the seat ring does not in fact come into direct contact with the body, due to its resting on the gasket. Maintaining proper clearance, this allows for thermal expansion while maintaining mechanical tolerances.
---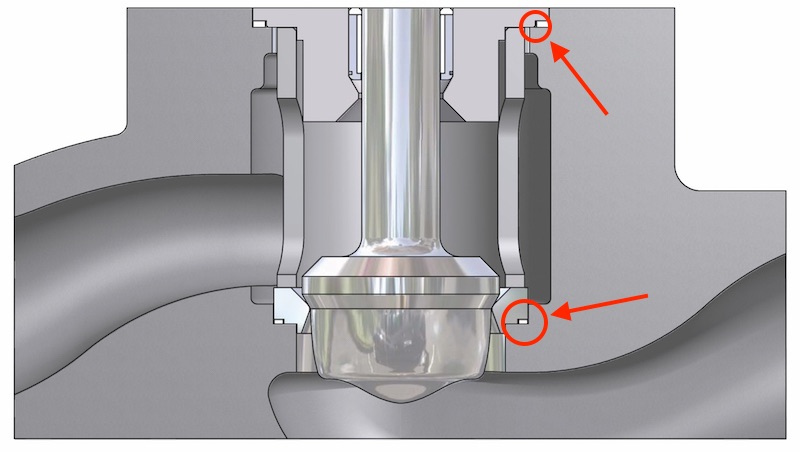 Gasket Temperature and Pressure Limits
---
TYPE
MATERIAL
TEMP LIMIT °C
PRESSURE LIMITS
Flat
PTFE
—130 to 177
415 Bar @ —130°C
69 Bar @ 177°C
Spiral Wound
304 SS/Graphite
—196 to 400
431 Bar
Spiral Wound
316 SS/Graphite
—196 to 5381
431 Bar
Flat
AFG2
—28 to 315
CF3
Flat
KEL-F
—1964 to 177
415 Bar @ —196°C
69 Bar @ 177°C
Flat
PTFEG
—130 to 232
415 Bar @ —130°C
35 Bar @ 232°C
Spiral Wound
304 SS/AFG2
—28 to 400
431 Bar
Spiral Wound
316 SS/AFG2
—28 to 538
431 Bar
Spiral Wound
304 SS/AFG2
—28 to 400
431 Bar
Hollow O-Ring
Inconel X-750
—28 to 815
1034 Bar
1 Limited to 426°C in oxidizing service
2 Gasket Material Free of Asbestos
3 Consult Factory for pressure limits of non-asbestos material specified
4 Lower temperatures upon request